About us
Betty Frank was launched in November 2008 by Samantha Redfern. Sam gave up working full time as a graphic designer to bring up her daughter, Beth, and son, Francis. Always passionate about clothes and accessories, and in an effort to keep the creative juices flowing, Sam started making her own jewellery. Friends loved the pieces she wore and started asking her to make something for them... and that's how Betty Frank was born.
If anything catches your eye and you think you would like to place an order, or commission an individual piece, please do call us for a chat on 07966 382178 or send an e-mail.
Sign up here to be updated on our new designs and special offers.

Gift certificates
Betty Frank gift vouchers
We have designed our own Betty Frank branded gift vouchers which make a great presentation. Contact us to order a gift voucher in any denomination of your choice and we will send you an electronic invoice for the total amount including postage. The personally printed voucher will be sent out to you within 24 hours of payment.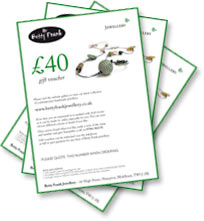 PayPal gift vouchers
Instant PayPal style gift vouchers for our shop can also be bought directly by clicking on the button below. To redeem them:
* Visit www.bettyfrankjewellery.co.uk. Shop and find an item you want to purchase.
* Select PayPal as your payment option. Log in to your account. You must have
or register for a PayPal account to redeem this gift voucher.
* When prompted, enter your gift voucher redemption code and follow the last steps
to redeem your Gift Voucher.